GLAT project was presented among EU projects from UNIRI at EU Corner at the European Researchers' Night that was held on Friday, September 28th, 2018, from 5 pm to 10 pm at the Tower Center Rijeka.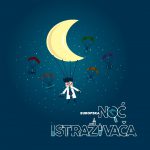 The Rijeka Researchers' Night was a part of the Techno-Past Techno-Future: European Researchers' Night project, co-funded by the Horizon 2020 – the European Union Research and Innovation Program. The event was coordinated by the Ministry of Science and Education of the Republic of Croatia at the national level, and by the University of Rijeka at a local level.
For the purpose of promoting the project at the European Researchers' Night and on similar events in the future, a leaflet was designed and printed.

 Leaflet for promotion of the project